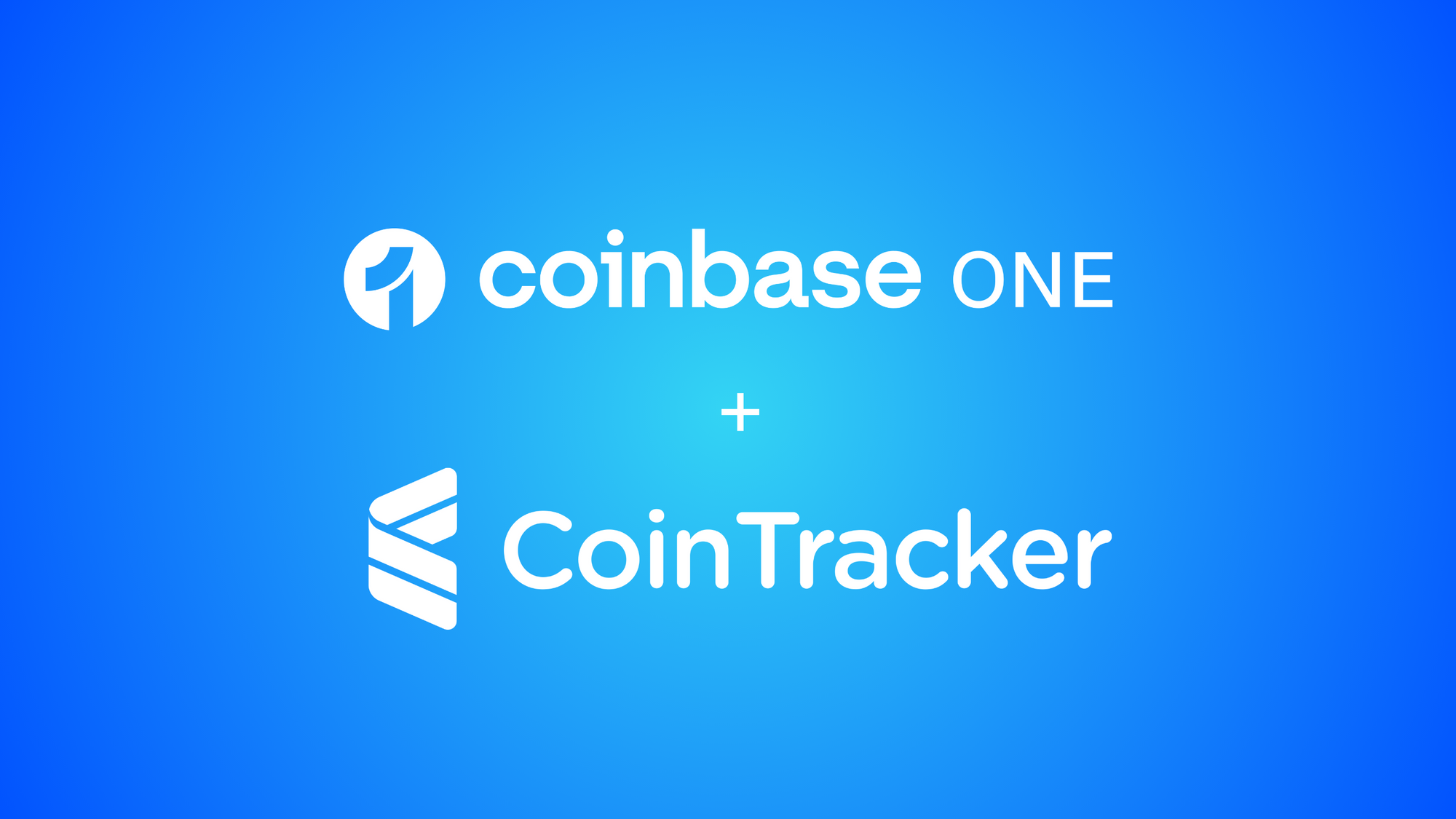 Last Updated: August 11, 2023
We're partnering with Coinbase One to bring you fewer trading fees, more rewards, and most importantly, peace of mind. Crypto should be easy, from buying to filing taxes, and we believe partnerships like this help the community get the most out of crypto. As part of the partnership, CoinTracker users are eligible for three months free of Coinbase One, Coinbase's premium subscription service.
Coinbase One offers a number of benefits, including:
Zero trading fees: Pay zero trading fees on thousands of tokens up to $10K/month. Spread fees may apply.
Exclusive offers: Automatically enter to win exclusive prizes like $10K worth of BTC and claim new partner rewards
Dedicated support: Get answers when you need them from a dedicated support team — 24 hours a day, 365 days a year.
In addition to these benefits, Coinbase One members will receive tax Form 8949 pre-filled in partnership with CoinTracker, making it simple to file online or through a CPA.
To redeem your free trial, check your inbox for an email from CoinTracker. Inside, you'll find a link to access the promotion. Be sure to act quickly, this offer is only available to the first 10,000 redemptions. If you run into any issues, please review the FAQs below or reach out to us at [email protected].
So what are you waiting for? Sign up today and start taking advantage of this offer.
FAQs
How do I activate my promotion?
Sign into your Coinbase account or create a new one
Select "Coinbase One" from the side menu
Sign up for Coinbase One and add a payment method (you won't be charged until after your extended trial is over)
Enter your promo code and complete the sign up process
Do I qualify for a 3-month trial of Coinbase One?
To get your free 3-month trial of Coinbase One, your account must meet the following criteria:
Have not previously activated a Coinbase One subscription
Redeem offer through sign-up or log-in flow via link shared by CoinTracker
What does my free 3-month trial of Coinbase One include?
Zero trading fees
Pre-filled tax forms
Boosted Staking rewards
Dedicated 24/7 phone support
Exclusive prizes and sweepstakes
More details here
Why isn't my coupon code being redeemed?
Coupon codes are limited to the first 10,000 redemptions
If you have previously activated a Coinbase One subscription, your account is not eligible for the promotion
How do I get help with my Coinbase One subscription?
Please see the resources that Coinbase provides here