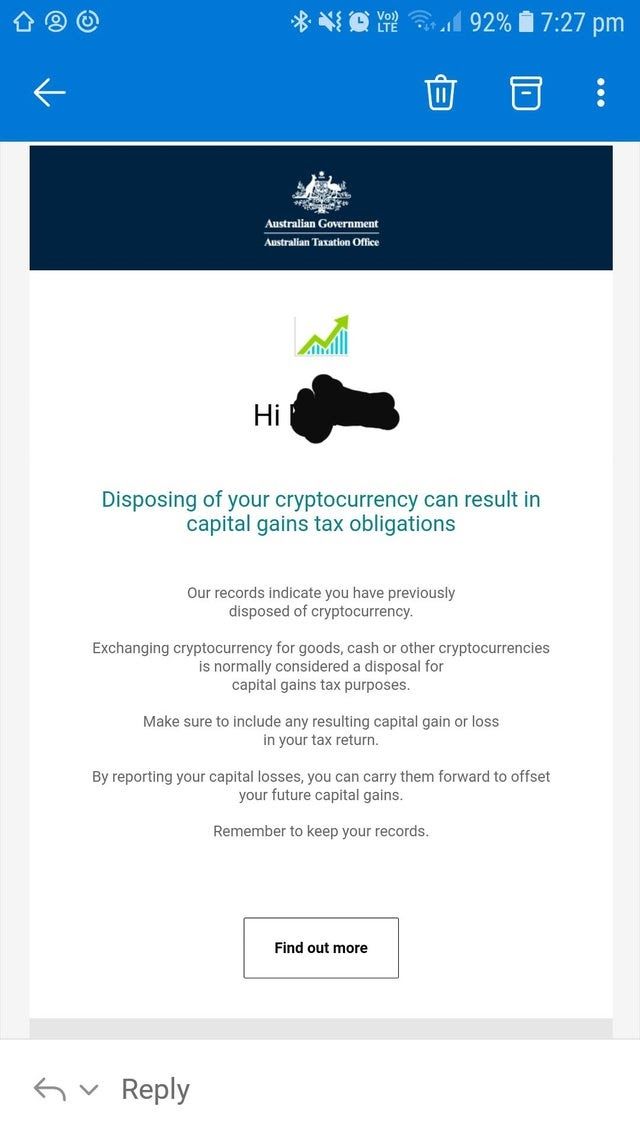 Last Updated: October 05, 2020
On March 11, 2020, it was reported that the Australian Taxation Office (ATO) was starting to send tax notices to 350,000 Australian taxpayers who had cryptocurrency transactions. It was starting to seem like this process was delayed due to COVID-19, however Australians are starting to receive these letters at scale.
An email received by an Australian crypto user posted on reddit.
If you receive this warning letter, don't panic! CoinTracker is here to help.
Generally, for cost-benefit reasons, tax authorities focus on taxpayers with large amounts of omitted or underreported taxes. However, in this case, the ATO seems to be cracking down on taxpayers with even small amounts of crypto transactions. This underscores the importance of accurate & complete cryptocurrency tax reporting and that no one is immune from the ATO oversight.
The tax treatment of cryptocurrency in Australia has been spelled out by the ATO. Under the Australian tax code, cryptocurrencies are treated as a "form of asset" and subject to capital gains taxes. Therefore, selling, trading, converting, or disposing of cryptocurrency for Australian dollars, any other currency (or cryptocurrency), or using them in exchange for goods or services can trigger taxable events. Record keeping is essential to maintain compliance similar to in other countries such as the United States, Canada, and the United Kingdom.
You can use CoinTracker to connect your wallets & exchanges to generate an accurate gains and loss report so you can amend the returns as necessary. Using a platform like CoinTracker also helps you keep all your crypto transaction records in one place, including a partnership with CoinJar and integrations with BTC Markets, CoinSpot, and Independent Reserve.
Questions or feedback? Let us know on Twitter @CoinTracker.
---
Disclaimer: this post is informational only and is not intended as tax or investment advice. For tax or investment advice, please consult a professional.