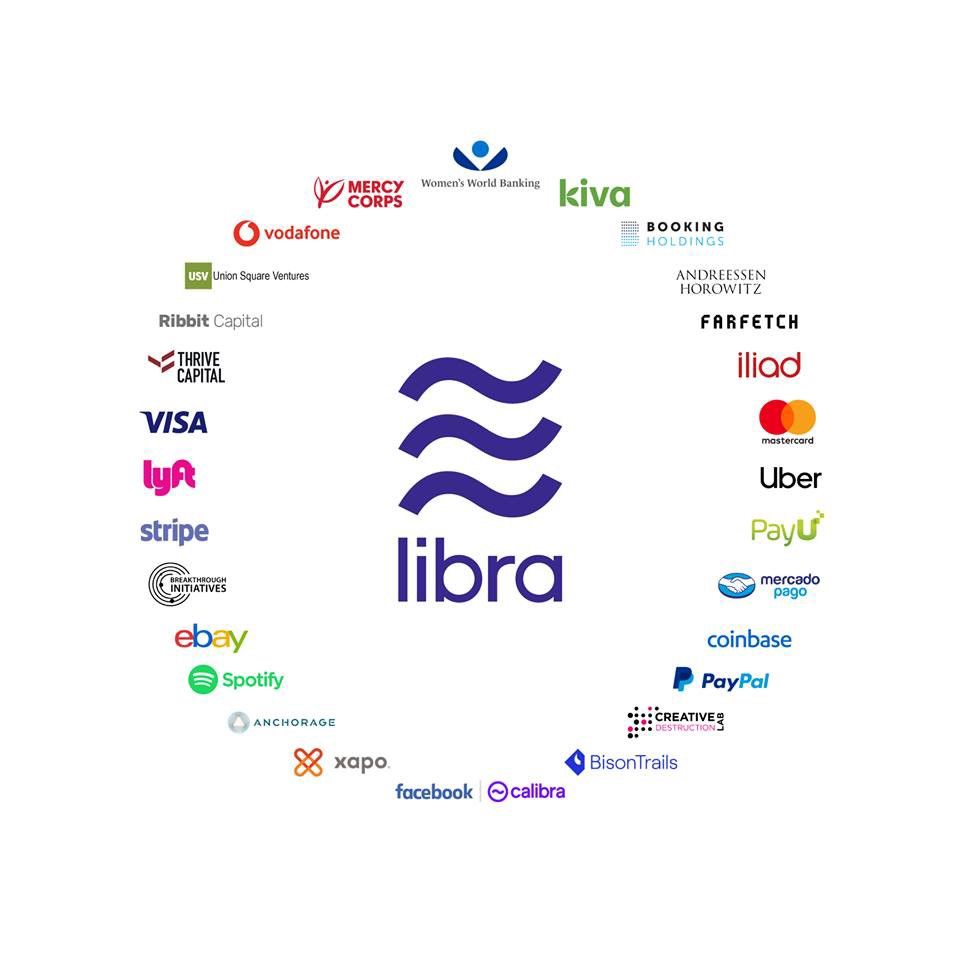 Last Updated: August 25, 2020
Earlier this morning, Facebook released a white paper and launched a testnet for its new cryptocurrency project, dubbed "Libra." Here's what you need to know:
Facebook's About Face on Privacy
Mark Zuckerberg first showed interest in learning more about the implications of cryptocurrency, encryption, and decentralization in a January 4th, 2018 Facebook post. In the most recent F8 developer's conference, Zuckerberg was even more explicit: "The future is private." In the wake of a string of controversies following the 2016 election and the rising popularity of privacy-focused messenger applications like Signal and Telegram, Zuckerberg and Facebook decided a "pivot to privacy" would be the best path forward for the social media giant.
Libra: A New Global Currency
Libra, expected to launch in the first half of 2020, will be a key component of this pivot. Inspired by the stagnation of the financial system, which resembles "telecommunication networks pre-internet," the Libra team plans to build "a new decentralized blockchain, a low-volatility cryptocurrency, and a smart contract platform." The purpose? The creation of a digital, scalable, and reliable global currency:
"The goal of the Libra Blockchain is to serve as a solid foundation for financial services, including a new global currency, which could meet the daily financial needs of billions of people. " - Libra White Paper
Today, the Libra project took the first steps toward their lofty goal with the public release of a considerable amount of new information on the project, including:
The Libra White Paper
The Libra White paper provides an overview of the project's mission and structure:
1. It is built on a secure, scalable, and reliable blockchain;
2. It is backed by a reserve of assets designed to give it intrinsic value;
3. It is governed by the independent Libra Association tasked with evolving the ecosystem. - Libra White Paper
The unit of currency will be called a "Libra," and each Libra will be backed by a basket of low volatility assets like bank deposits and short-term government securities through the "Libra Reserve".
The Libra Association
In lieu of assuming full control of Libra, Facebook has organized a consortium of companies, "The Libra Association," to run the Libra blockchain and manage the Libra Reserve. This association, "an independent, not-for-profit membership organization headquartered in Geneva, Switzerland," will hold "final decision-making authority" over the protocol, according to the white paper.
Rumors have been swirling about different partners interested in teaming up with Facebook. Today, 27 "Founding Member" companies were announced, including major players in the payments and technology space, such as Visa, PayPal, Coinbase, Uber, Lyft, Mastercard, Stripe, eBay, and investment firms Andressen Horowitz, and Union Square Ventures.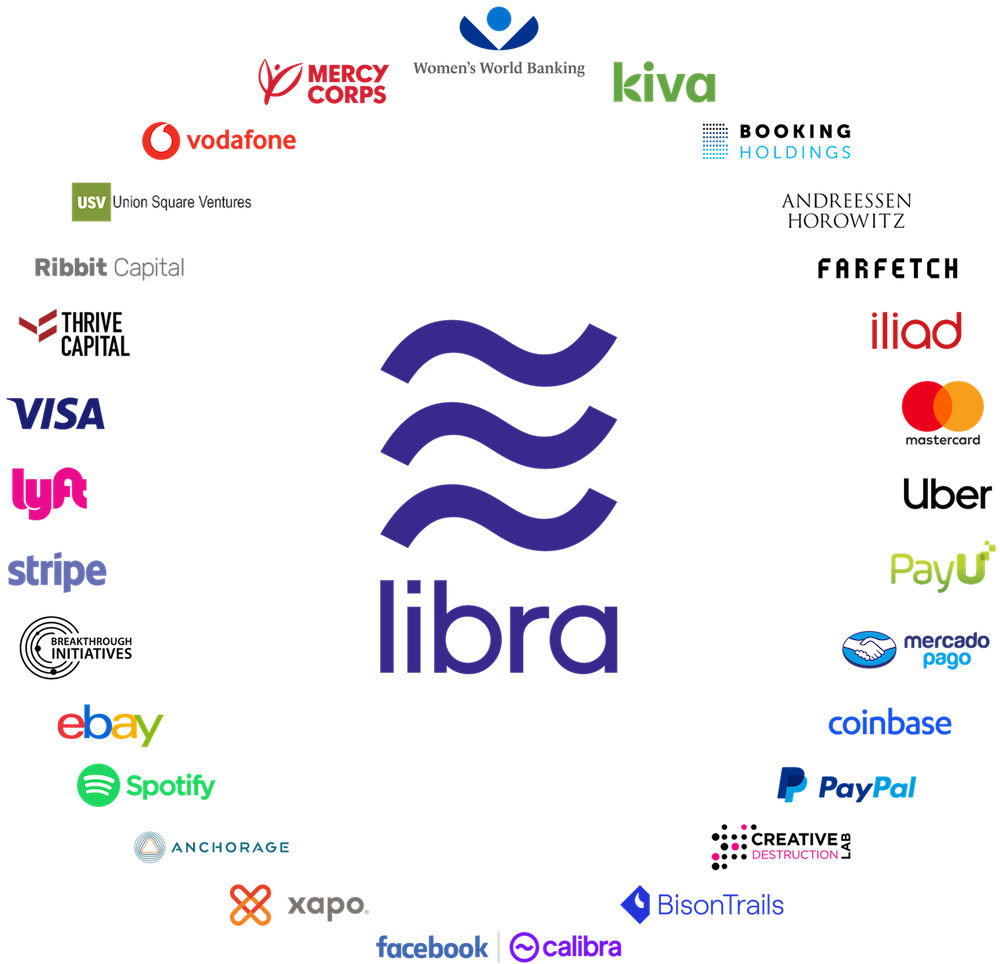 Curiously absent: major banks like J.P. Morgan (who are working on their own digital coin), and PayPal's fintech rival Square, who created a "Square Crypto" team earlier this year focused exclusively on open source Bitcoin development. Square (and Twitter) CEO Jack Dorsey has signaled his preference for Bitcoin over alternative cryptocurrencies, and his intention to integrate the Bitcoin lightning network initiative with the popular Cash App in the future.
The Libra Platform & Technology
The Libra platform will run on a Proof-of-Stake style blockchain, and support smart contracts written in the newly developed "Move" programming language. The decision to use proof-of-stake style consensus (where network transactions are certified by a select of validators running nodes) is a logical fit with the corporate consortium model of the Libra Association and the project's goal of providing a high throughput, "reliable" platform. Libra's consensus algorithm, dubbed LibraBFT, is itself based off the "HotStuff" state machine replication system.
Calibra
While the Libra platform will be governed by the non-profit Libra Association based in Geneva, Facebook has also formed a separate legal entity, registered in US as a Money Services Business, dubbed "Calibra" to build software on top of the Libra blockchain. The first project undertaken by Calibra: a Libra custodial wallet app. According to Kevin Weil, the former Instagram executive who is now vice president of product at Calibra, the Calibra digital wallet will exist as a standalone iOS and Android app, but also be integrated into Facebook Messenger and WhatsApp. To create an account, you will need a government ID, but will then be able to make free peer-to-peer payments to other users.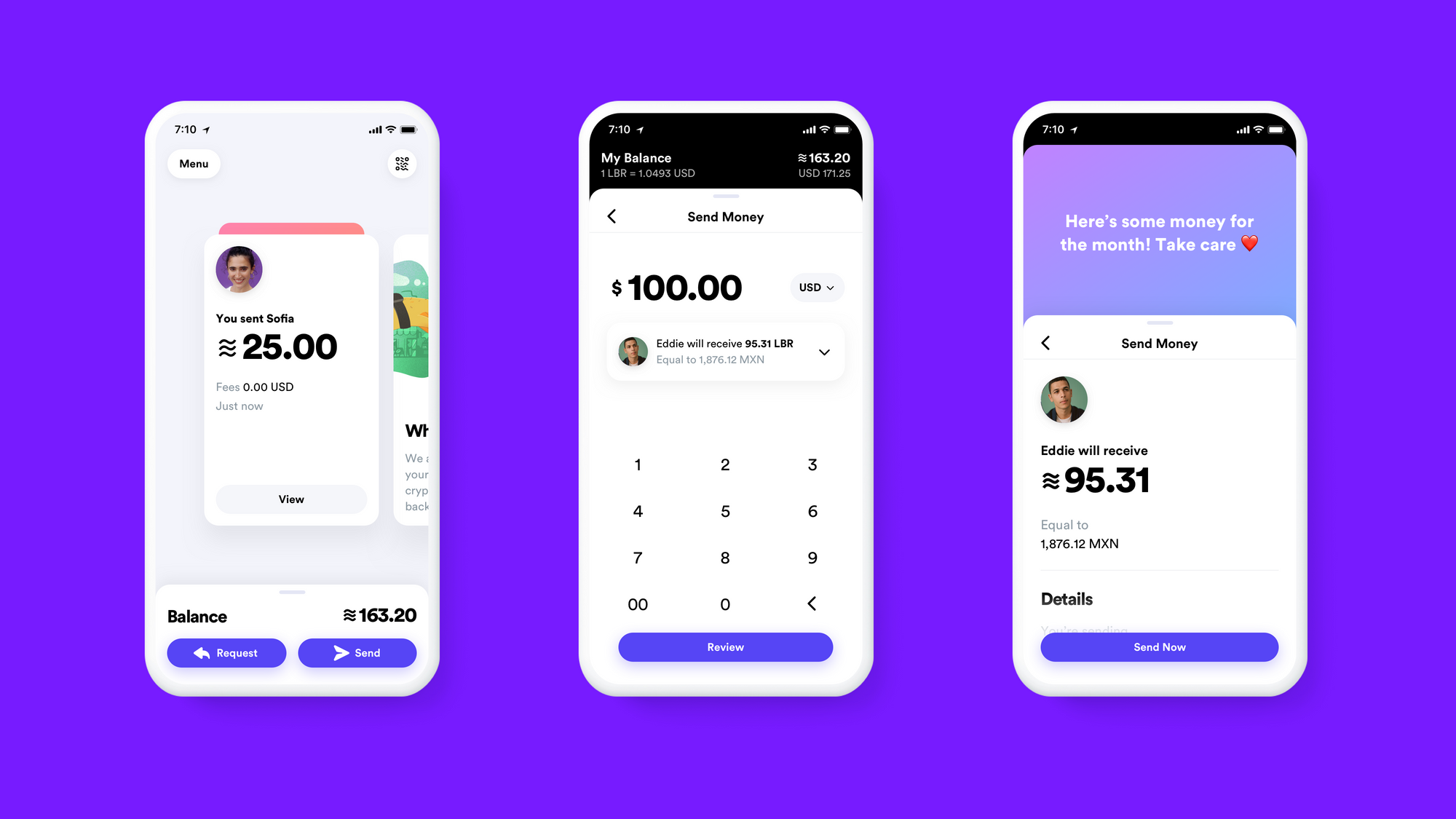 These early designs demonstrate the huge potential for Libra to bring a user-friendly cryptocurrency UX to Facebook's 2.4 billion users.
Reactions to Libra Announcement
Facebook, its partners, and other advocates argue that Libra represents a bold initiative with the potential to increase financial accessibility and reduce costs for billions of users. Some cryptocurrency enthusiasts have welcomed the move from Facebook and its partners as a validation of the importance of blockchain and cryptocurrency technology, but unsurprisingly, critics have also begun to weigh in with concerns.
Facebook has positioned Libra as a "decentralized" cryptocurrency, but the protocol's design more closely resembles other centralized projects, such as asset backed stablecoins like Coinbase's USDC, TrustToken's TrueUSD, and Gemini Dollar. A consortium of 100 companies may provide a degree of independence from Facebook, but it is clearly a far more centralized model of governance than the often chaotic process of coordinating protocol changes in Bitcoin's proof of work system that have often resulted in hard forks to the protocol.
While Facebook has claimed it is more focused on privacy than ever before, others have expressed concern that the pseudonymous data on Libra's blockchain transactions may end up being exploited for Facebook's ad targeting or provided to authorities. Although the Libra Foundation will be based in Switzerland, Facebook has made clear it intends to develop Libra's services in compliance with local financial regulations. Exactly how this may constrain user access or privacy remains to be seen.
Even with the initial steps taken by Facebook to secure a MSB license in the US and assurances that they will comply with local requirements, regulators have already expressed concern about the initiative. Just hours after the unveiling, US House Financial Services Committee Chair Maxine Waters called for Facebook to "halt development of its announced cryptocurrency until Congress and regulators conduct a review," and Ohio Senator Sherrod Brown shared similar sentiment on Twitter:
European regulators, who are still considering fining Facebook $1.63 billion for privacy breaches, also wasted no time expressing their concerns about the project. Markus Ferber, a German member of the European Parliament, has said he fears Facebook will become a "shadow bank," and the French Finance Minister called for an assessment of Libra at the next Group of Seven Central Bank meeting in July:
"This money will allow this company to assemble even more data, which only increases our determination to regulate the internet giants"
- Bruno Le Maire
Conclusion
While the debut of Libra has answered many questions about Facebook's cryptocurrency initiative, it also brings forward many more. Less than a year remains to Libra's anticipated launch, and the future of finance for billions of users hangs in the balance.
---
CoinTracker helps you calculate your crypto taxes by seamlessly connecting to your exchanges and wallets. Questions or comments? Reach out to us @CoinTracker.
Disclaimer: this post is informational only and is not intended as tax advice. For tax advice, please consult a tax professional.