Last Updated: November 07, 2020
Regulators globally are struggling to come up with an effective tax policy for virtual currency transactions. Recently, the IRS was scrutinized by The Treasury Inspector General for Tax Administration (TIGTA), about this very issue.
OECD report
A recently issued report by the Organization for Economic Co-operation and Development (OECD), suggests a framework that regulators can use to come up with effective tax rules for cryptocurrency transactions. The OECD is an intergovernmental economic organization with 37 member countries, founded in 1961 to stimulate economic progress and world trade.
According to the OECD report, regulators find it challenging to come up with a robust tax policy for cryptocurrency due to a lack of centralized control, pseudo-anonymity, valuation difficulties, hybrid characteristics, and rapid evolution of the technology. As a result, different countries treat cryptocurrency related transactions in different ways. There's no uniformity nor consistency in applying these tax rules leading to low compliance rates and lost tax revenues. On top of that, different jurisdictions define virtual currency in various ways for tax purposes.

For instance, mining income is taxed differently by various regulators. The IRS taxes crypto mining rewards at the time of the receipt as ordinary income. On the other hand, the Australian Taxation Office (ATO) subjects mining income to capital gains taxes if the mining operation is not considered to be a business.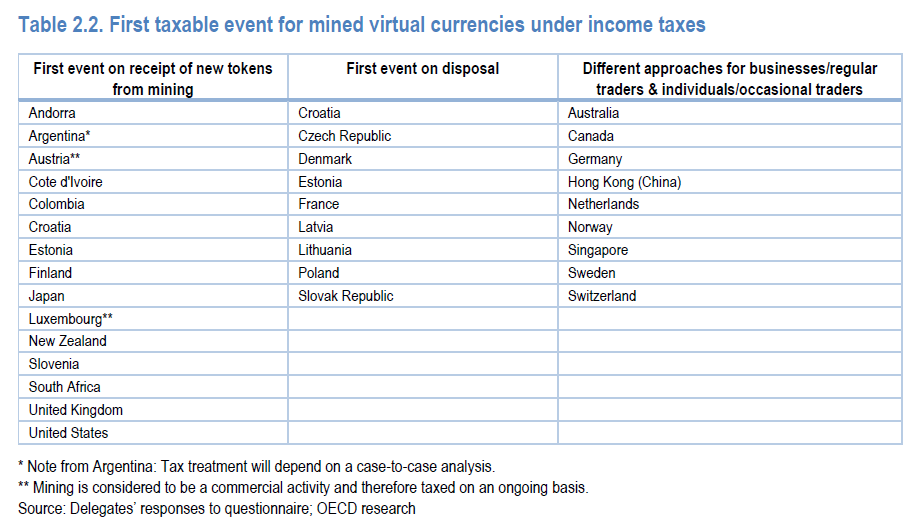 While a small number of countries (Grenada, Italy, the Netherlands, Portugal, Switzerland) don't consider any exchanges made by individuals to be taxable events, the majority of countries in the OECD impose taxes on crypto-to-fiat trades, purchase of goods and service thru crypto, and crypto-to-crypto trades.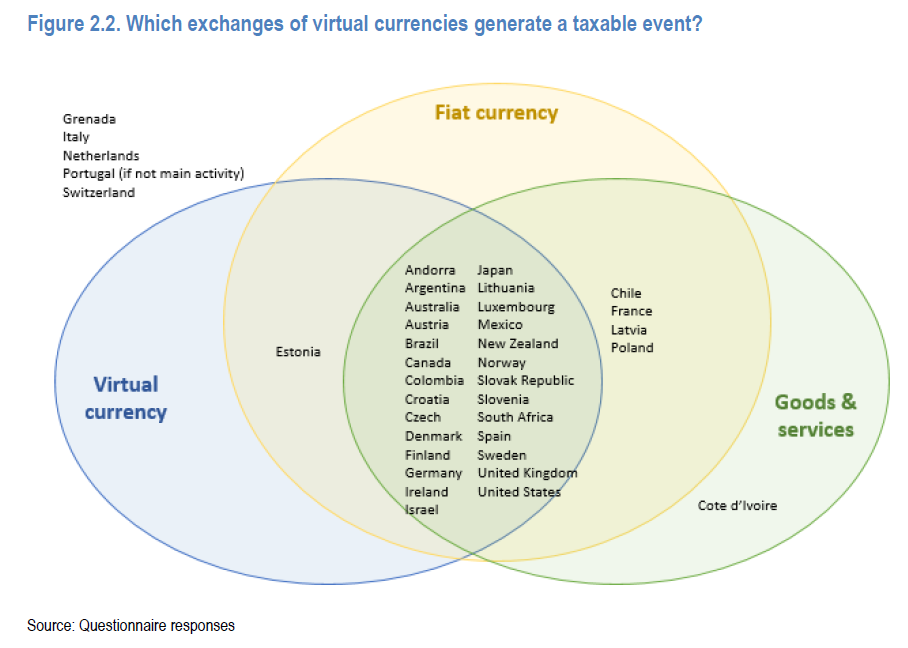 OECD Suggestions for Policymakers
After analyzing the crypto tax rules for fifty jurisdictions, the OECD suggests policymakers worldwide consider several key items to have an effective cryptocurrency tax policy.
Specific guidance
First, policymakers should start issuing more specific guidance covering the full life-cycle of a cryptocurrency, such as the creation, exchange, storage, disposal, loss/theft, etc. of each asset. Guidance should be issued more frequently to stay up to date with this fast-moving space. The OECD encourages policymakers to also provide a rationale for adapting certain tax rules to improve transparency. They also support introducing a de minimis rule to exempt small crypto transactions from taxation.
Hard forks
Second, the OECD recommends regulators to adopt a proper tax policy on taxing hard forks. This is especially important because few countries have issued any guidance on this topic. The guidance on this subject should clearly mention when hard fork income should be taxed and why ᠆᠆᠆ at the time you gain dominion of control vs. when you sell an asset.
Stablecoins
Third, the OECD notes that stablecoins have grown rapidly during the past few years. It expects that Central Bank Digital Currencies (CBDCs), stablecoins backed by banks, will become more prevalent in the coming years. Applying generic cryptocurrency related tax rules for these stablecoins may not be applicable in most cases. The OECD encourages regulators to think of these stablecoins as real currency when formulating regulations.
Proof-of-stake
Lastly, the OECD asks regulators to come up with Proof of Stake (PoS) specific tax guidance. With Ethereum planning to move from proof-of-work to proof-of-stake in the future, this is an important area regulators need to come up with new tax guidance.
Tax regulators like the IRS are now under the microscope of both local (The Government Accountability Office, The Treasury Inspector General for Tax Administration) and international watchdogs like the OECD. In this environment, crypto users should do everything they can to be as compliant as possible to avoid any trouble now or in the future (remember: transactions on a blockchain are public and set in stone forever!). An easy way to get started is by using crypto tax filing software like CoinTracker to get your crypto taxes done quickly and accurately.
---
Questions or comments? Let us know @CoinTracker on Twitter.

Disclaimer: This post is informational only and is not intended as tax advice. For tax advice, please consult a tax professional.