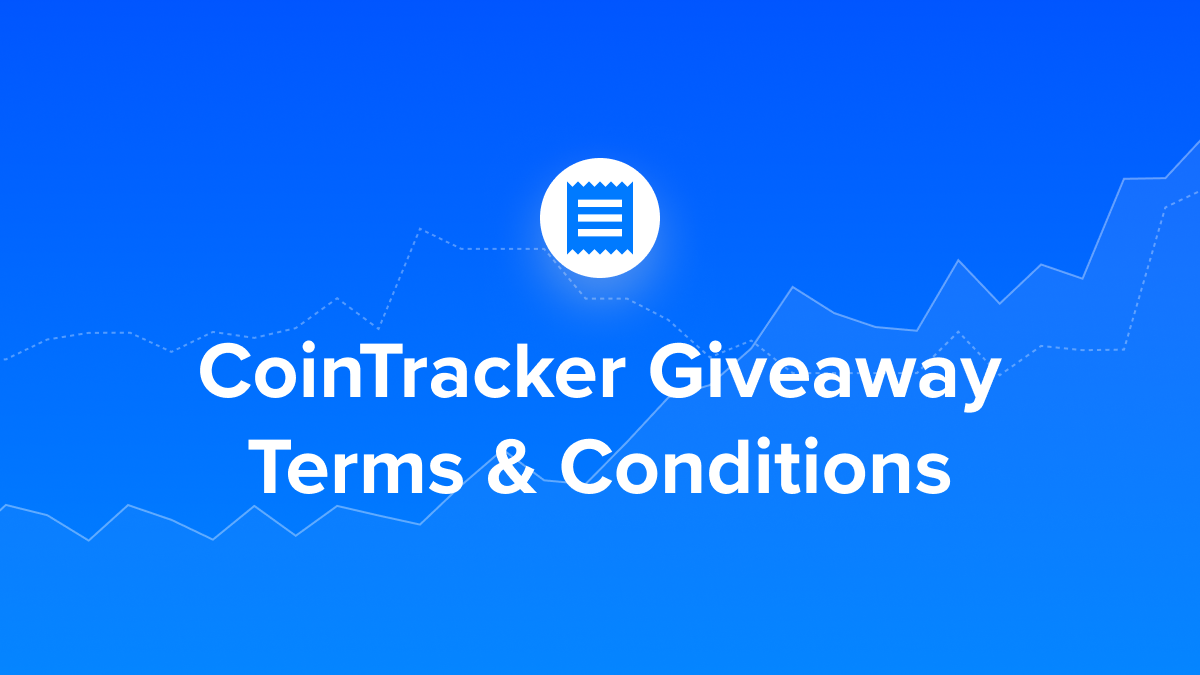 CoinTracker Social Media Giveaway Terms & Conditions
OFFICIAL RULES
NO PURCHASE IS NECESSARY TO PARTICIPATE.
SPONSOR
CoinTracker 2022 giveaways (the "Promotion") are sponsored by CoinTracker Inc., a Delaware corporation ("Nino Finance, Inc."), located at 2093 Philadelphia Pike #2046, Claymont, DE 19703-2424, United States. The Promotion is in no way sponsored, endorsed or administered by, nor is it associated with, Twitter, Inc.
ELIGIBILITY
The Promotion is open to any individual who is 18 years of age or older unless further specified by the location of the Entrant. It is void in Canada and where prohibited by law. Participation in the Promotion is subject to these rules (the "Official Rules").
PROMOTION PERIOD (Generic)
The Promotion begins and ends at the time designated in the respective announcement tweet (the "Promotion Period").
DISTRIBUTION PERIOD
Due to the high volume of participants in the Promotion, it may take CoinTracker up to 30 days (the "Distribution Period") following the end of the Promotion Period for CoinTracker to distribute the rewards to all winning entrants.
PRIZES
Winners will be randomly selected from valid submissions. Prizes will vary by the giveaway, as defined in the Promotion announcement.
If the prize is a crypto asset (i.e. coin or NFT), the prize will be deposited to the winning Entrants' provided wallet address by CoinTracker. The deposit of the winner's prize will occur during the Distribution Period, but CoinTracker will otherwise determine the date and time at its sole discretion. A winning Entrant must provide their correct wallet address to receive their prizes. The total retail value of each crypto asset prize will vary based on market conditions. Note that crypto assets are taxable as income in most jurisdictions.
If the prize is a CoinTracker product or product credit, the prize will be applied to their CoinTracker account login. A winning Entrant must provide their correct account information to receive their prizes.
If the prize is a physical third-party product (e.g. a crypto hardware wallet), the prize will be shipped to a provided address. The prize will be distributed before the end of the Distribution Period, but CoinTracker cannot guarantee when the shipped item will arrive. A winning Entrant must provide their correct shipping address to receive their prizes.
If the advertised prize cannot be awarded for any reason, CoinTracker reserves the right to substitute a prize of equal or greater value. CoinTracker community support will reach out via Twitter if the prize cannot be awarded. Entrants have 72 hours to respond to outreach.
All federal, state and local income taxes on the prizes and all other costs associated with acceptance or use of the prizes are the sole responsibility of the winners.
HOW TO ENTER
To participate in the Promotion, you will need a Twitter account. Creating a Twitter account is free of charge.
To obtain a Twitter account, visit https://twitter.com/home and follow the instructions to create an account. By submitting your information and creating a Twitter account, you will be required to agree to the Twitter user agreement.
To enter the Promotion, use your personal Twitter account to complete the following steps (collectively, an "Entry"):
Access the giveaway on the contest post from https://twitter.com/cointracker
Sign up or have an account at CoinTracker.io
Follow @CoinTracker
Complete the action(s) specified in the giveaway (e.g. Retweet, Like, Reply)
Entries made in any other manner will not be eligible for the Promotion.
CONDITIONS OF ENTRY
Entries must be made by individuals (each, an "Entrant") using their own Twitter accounts. Entries may not be submitted by Entrants on behalf of another individual. By submitting an Entry, each Entrant represents and warrants that the Entrant meets all eligibility criteria for participation in the Promotion. EACH ENTRANT IS LIMITED TO SUBMITTING ONE ENTRY FOR THE PROMOTION AND IS LIMITED TO WINNING ONE PRIZE DURING THE PROMOTION PERIOD.
DISQUALIFICATION
CoinTracker reserves the right to remove, reject or disqualify any Entry, as well as the Entrants who submitted them, that, in its sole opinion, (a) includes inappropriate, offensive or other derogatory language, (b) infringes, misappropriates or violates any rights of any third party including, without limitation, patent, copyright, trademark, trade secret or right of privacy or publicity, (c) was submitted using a Twitter account that is not the Entrant's personal Twitter account, or using false contact information, (d) was generated by a macro, bot or other automated means, (e) was submitted through commercial sweepstakes subscription notification or entering services or (f) violates any of the Official Rules. To claim the prize, winners must provide their CoinTracker account email address, which will be requested via Twitter. The email address must be provided before the Promotion Period ends.
PUBLICATION OF WINNERS LIST
Participation in the Promotion constitutes permission for CoinTracker to publish a list of giveaway participants on Twitter. A list of winners will be provided upon request to CoinTracker by emailing [email protected] during the Promotion Period and for 3 months thereafter. Twitter addresses will be the only personal detail provided.
LIMITATIONS AND DISCLAIMERS
The Promotion is subject to all applicable federal, state and local laws, the Official Rules, the Terms of Use and the Privacy Policy.
By participating in this Promotion, Entrants agree to abide by and be bound by the Official Rules and by the decisions of CoinTracker with respect to the Promotion. CoinTracker's failure to enforce any term of these Official Rules shall not constitute a waiver of that provision. In the event there is an alleged or actual ambiguity, discrepancy or inconsistency between statements contained in any Promotion-related materials and the Official Rules (including any alleged discrepancy or inconsistency in these Official Rules), it will be resolved by CoinTracker in its sole discretion.
CoinTracker is not responsible for: (i) any changes to or the unavailability of Twitter services that may interfere with the Promotion (including any limitations, restrictions, or any conditions on CoinTracker's ability to use Twitter for the Promotion as provided herein) or the ability of Entrant to submit an Entry via Twitter, receive notices or communicate with CoinTracker via Twitter, (ii) any problems or technical malfunctions, errors, omissions, interruptions, deletions, defects, delays in operation of transmission, communication failures (including but not limited to failures or malfunctions of phone lines, telephone systems or other communications systems), destruction of or unauthorized access to, or alteration of, Entries; (iii) failed or unavailable hardware, network, software or telephone transmissions that prevent an Entry from being received by CoinTracker; (iv) causes beyond CoinTracker's reasonable control that jeopardize the administration, security, fairness, integrity or proper conduct of this Promotion; (v) incorrect or inaccurate Entry information whether caused by Entrants or by any of the equipment or programming associated with or utilized in the Promotion; (vi) any typographical or other error in the printing or advertising related to the Promotion, in the administration or execution of the Promotion, or in the notification of prize winners; or (vii) any violation of the Official Rules, cheating or fraud by any participant in the Promotion.
CoinTracker may suspend, terminate or modify the Promotion at any time if it determines, in its sole discretion, that the Promotion cannot be executed as provided herein for any reason, including, without limitation, because of infection by computer viruses, bugs, tampering, unauthorized intervention, fraud, technical failures, or any other causes beyond the reasonable control of CoinTracker that corrupt or affect the security, administration, fairness or integrity of this Promotion.
ANY PERSON, WHETHER OR NOT AN ENTRANT, WHO ATTEMPTS TO CORRUPT OR UNDERMINE THE LEGITIMATE OPERATION OF THE PROMOTION MAY BE VIOLATING CRIMINAL AND CIVIL LAWS. SHOULD SUCH AN ATTEMPT BE MADE, COINTRACKER RESERVES THE RIGHT TO DISQUALIFY, PROSECUTE AND SEEK DAMAGES FROM ANY SUCH PERSON TO THE FULLEST EXTENT PERMITTED BY LAW.
RELEASE OF CLAIMS
By participating in this Promotion, each Entrant agrees to release, discharge and hold harmless, Twitter Inc., its parents, subsidiaries and affiliated companies, and each of their respective officers, directors, employees and agents, from and against any and all liability, loss, injuries or damages associated with participation in this Promotion or the acceptance, possession or use of any prize received in this Promotion.
LIMITATION OF LIABILITY; DISPUTE RESOLUTION; GOVERNING LAW
By participating in the Promotion, Entrants agree that (i) any and all disputes, claims and causes of action arising out of, or connected with, this Promotion or any prize awarded (if applicable) shall be resolved individually, without resort to any form of class action, and shall be determined exclusively by arbitration as provided in the following paragraph; (ii) any and all claims, judgments and awards to either party shall be limited to actual out-of-pocket costs incurred,  but in no event shall either party be awarded attorneys' fees; and (iii) to the extent allowed by applicable law, each party hereby waives all rights to claim attorneys' fees, punitive, incidental and/or consequential damages and/or any other damages, other than out-of-pocket expenses, and any and all rights to have damages multiplied or otherwise increased.
Except as otherwise required by a non-waivable provision of applicable law, any dispute, claim or controversy arising out of or relating to the Promotion shall be determined by arbitration in San Francisco, California, United States, before one arbitrator who has at least three years of arbitration experience. The arbitration shall be administered by JAMS pursuant to its Comprehensive Arbitration Rules and Procedures. Judgment on the award may be entered in any court having jurisdiction. This clause shall not preclude parties from seeking provisional remedies in aid of arbitration from a court of appropriate jurisdiction in San Francisco County, California, or if such proceeding cannot be lawfully held in such location, as near thereto as applicable law permits. In any arbitration arising out of or related to the Promotion, in no event shall the arbitrator award to the prevailing party attorneys' fees or costs incurred with the arbitration; each party shall be solely responsible for its own costs and expenses (including attorneys' fees) incurred in connection with the dispute.
All issues and questions concerning the construction, validity, interpretation and enforceability of the Official Rules or the rights and obligations of any Entrant or CoinTracker in connection with the Promotion shall be governed by and construed in accordance with the internal laws of the State of Delaware without giving effect to any conflict of law principles.
All trademarks used in these Official Rules are the property of their respective owners.